The China-ASEAN Mayor's Forum & Conference for Collaborative Innovation and Development kicked off on the evening of July 28 in Dezhou, Shandong province.

The event's theme, "Build a regional cooperation network for cities and jointly push the upgraded development of China-ASEAN relations", seeks to advance coordinated innovation and regional development as well as promote upgrading of multi-field collaboration between China and ASEAN countries.
"Bilateral cooperation is the foundation of all regional economic frameworks," said Arthayudh Srisamoot, Thailand's ambassador to China, during his video speech.
According to the Thai ambassador, Thailand and China enjoy a strong and lasting friendship and are important trade partners. In 2021, the bilateral trade volume reached $131 billion, a year-on-year increase of 32.7 percent.
Last year, Thailand and Shandong's bilateral trade amounted to 68 million yuan ($10.07 million). Both countries have actively established important sister cities, such as Bangkok and Shandong, Chiangmai and Qingdao, Pattaya and Qingdao, and Phuket and Yantai.
"Thailand is willing to further deepen exchanges and cooperation with Shandong and China in the fields of the economy, innovation, and post-pandemic cooperation," the Thai ambassador said, and expressed hope that SMEs from all ASEAN member states will have greater access and opportunities to engage in China's global and regional value chain.
Djauhari Oratmangun, Indonesia's ambassador to China, pointed out that when the dialogue relations between ASEAN and China were first established in 1991, the mutual trade totaled only $7.96 billion.
The Indonesian ambassador also noted that the bilateral trade between ASEAN and China reached $878 billion last year, which made ASEAN China's top trading partner.
"As the future Chair of ASEAN in 2023, Indonesia shall continue to work closely with current ASEAN Chair Cambodia to stimulate initiatives that would lead to opportunities for our people and their businesses that fall in line with the vision of the Leaders of ASEAN and China," the Indonesian ambassador added.
Myo Thant Pe, Myanmar ambassador to China, said that the establishment of the Regional Comprehensive Economic Partnership (RCEP) in the beginning of this year brings the region economic connectivity, shared opportunities, effective investment, and greater regional trade momentum.
Over seven decades, the relationship between Myanmar and China has developed into a Myanmar-China Community of a Shared Future based on equality and win-win cooperation, said Myanmar's ambassador.
"I hope through this forum, we can explore investment and business opportunities in ASEAN countries and learn the achievements and experience of local participation in China-ASEAN cooperation," the Myanmar ambassador added.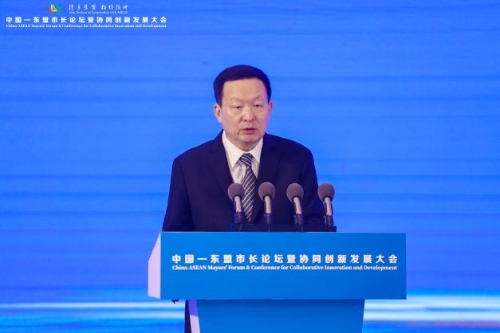 Shandong Governor Zhou Naixiang Delivers a speech.
Shandong Governor Zhou Naixiang said that the friendly exchanges between the province and ASEAN have a long history. In recent years, the two sides have carried out extensive exchanges and cooperation in many fields, and have established 31 pairs of sister cities and friendly cooperative city relations.
According to Zhou, ASEAN has become Shandong's largest trading partner. In the first half of this year, the total trade volume between the two sides reached 286.84 billion yuan, an increase of 47.9 percent year-on-year.
The event has proven to be an important platform for Shandong to deepen exchanges and cooperation with ASEAN countries. "Shandong is willing to work together with all ASEAN members to make a great contribution to the development of a China-ASEAN comprehensive strategic partnership," Zhou said.
The China-ASEAN Mayor's Forum & Conference for Collaborative Innovation and Development kicks off on the evening of July 28 in Dezhou.
Dezhou city in Shandong signs a friendly cooperation agreement with Laos' Xieng Khouang province .
A batch of cooperation projects are signed during the event.