Zhang Yongxia, mayor of Yantai, Shandong, met with a South Korean media delegation and journalists from China Daily on June 25, to celebrate the conclusion of a successful three-day fact-finding media tour of the city.
The event, entitled "Discover Yantai", was jointly organized by China Daily and Yantai municipal government.
During the trip, a group of senior reporters from ROK visited more than 20 Yantai-ROK joint-venture enterprises, communities and campuses.
A major stop was the China-ROK Industrial Park, the first of its kind in the country, which was unveiled in June 2015 following the signing of a free trade agreement (FTA) between the two countries. "The China-ROK Industrial Park has provided an unprecedented opportunity for Yantai to cooperate with ROK under the framework of the FTA," said Zhang.
She pointed out that a number of multinational ROK enterprises had been attracted to invest in the park, including Hanwha Group and Korea Hanmi Group.
Zhang hoped that the journalists would shine a light on all of the positive joint efforts taking place in Shandong province.
She added that Yantai will continue to push for innovation, further open up, and foster an international business environment with advantageous policies, so that the industrial park could become the best destination for South Korean enterprises.
Kang Bing, the vice president of China Daily, said at the meeting that this media tour has built an excellent promotion platform for Yantai and ROK to enhance mutual exchanges and raise the international influence of Yantai.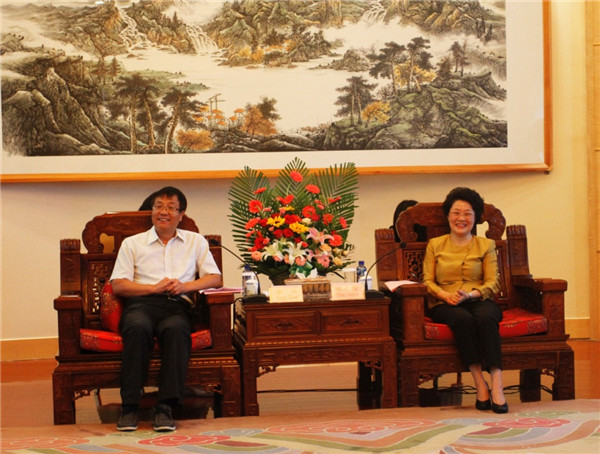 Yantai Mayor Zhang Yongxia (R) meets with the vice president of China Daily, Kang Bing.