300-million-ton Comprehensive Port
As the Eastern Bridgehead of the Eurasian Continental Bridge and New Silk Road, Rizhao has built 59 productive berths for coal, ore, container, crude oil and bulk grain. Rizhao port is connected with over 100 countries and areas by sea. In 2014, the cargo throughput amounted to 353 million tons, ranking 8th in the coastal port cities, with the import volume of iron ore and the throughput capacity of nickel ore, wood chip and soybean leading among China's coastal ports. The throughput of coal is among the top five compared with other ports in North China. According to the new Master Planning for Rizhao Port approved by the Ministry of Transportation and Shandong Provincial Government, 280 production berths will be built and the future throughput capacity is about 600 million tons.
Base for Port-related Industries
Rizhao takes advantage of the port and promotes the development of modern port-related industries. The annual production capacity reaches 12 million tons steel, 750,000 automobiles (including low-speed automobiles), 780,000 engines, 1 million automatic transmissions, 1.88 million tons pulp paper, 8.4 million tons soybean oil, 13 million tons processed oil and 2.4 million tons sugar. The production capacity of soybean ranks the second and the production capacity of refined sugar by Lingyunhai Sugar Group leads the world. Lanshan Wood Processing Park is the second national demonstration area for wood and the largest distributing center for import wood in the north of Yangtze River. Rizhao Refined Steel and Iron Base, breaking ground on June 28, 2013, is about to reach the capacity of 13.1 million tons iron, 13.5 million tons crude steel, 13 million tons one-time steel, and will strongly drive the development of port-related industries in Rizhao and the overall economic development.
Sunshine Coastal Resort
With the sunshine duration of 2540 hours a year, Rizhao is praised as the "Eastern Sun City". Blue sky, blue sea, golden beach, sunshine and the green forestry belt contribute to the beautiful natural scenery. 64-kilometer beach reaches the international first-class standard. We have "No. 1 gingko tree in the world" with history of nearly 4000 years. Wulian Mountain, which is praised by famous poet Su Shi of Song Dynasty, and Jiuxian Mountain, which has the largest wild azalea park north of Yangtze River, are all perfect resort for leisure and rehabilitation.
City of Water Sport
Rizhao has the first-class Olympic Water Park, which covers an area of 9.2 square meters and has held more than 40 important sport events, such as Europe Class World Championship, 470 Class World Championship, China Water Sport Games of 2007 and 2010, the 11th National Games (Rizhao Area) , and 2013 Laser Radial Sailing Word Championship. Rizhao is the only city in China that can hold all the water sport games at the same time.
Ecological Livable City
With a moderate and pleasant climate, Rizhao is praised as "the south in North China and the north in South China". The green rate of Rizhao reaches 40.3%. Air quality of all functional districts meets the standard. Rizhao won UN-HABITAT Scroll of Honor in 2009, and became National Model City for Environment Protection, China Model Green City, National Model City for Renewable Energy Usage in Construction, National Sustainable Development Demonstration District, China's Most Competitive Ecological City, and the first batch of National Ocean Ecological Culture Demonstration District.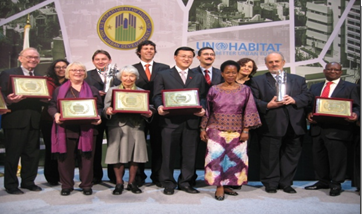 Rizhao Won UN-HABITAT Scroll of Honor
University and Technological Park
Through building the university science park, Rizhao attracts eight universities and colleges to settle down with 70000 students on campus. Famous universities such as Beijing University and Tsinghua University have set up production, study and research base in Rizhao. Hundreds of famous professors have settled here. As the first Blue Economy Foreign Knowledge Introduction Experimental Site, Rizhao has become an ideal city for R&D, academic exchange, innovation and starting business.
Famous Coastal City with Profound Culture
Rizhao is an important birthplace of "Longshan Culture". Promoting righteousness and integrity, Ju culture has a sound foundation and becomes an important part of the ancient Dongyi culture. It is also one of the Three Cultures of Shandong together with Qi culture and Lu culture. The ancient pottery inscription explored in the Lingyang River of Ju County is 1000 years earlier than the oracle bone inscription and becomes the ancestor of Chinese Character. Rizhao is regarded as the hometown of black pottery with a history of 5000 years. Rizhao is also one of the three famous places for Chinese folk paintings. Rizhao is the hometown of Jiang Shang, the politician and militarist in West Zhou Dynasty, Liu Xie, the famous Chinese literary critics in South and North Dynasty, Dr. Samuel Chao Chung Ting, the world famous physicist and Nobel Prize winner, Wang Jinmei, the representative of the First National Congress of the CPC, and Song Ping, the former member of the Standing Committee of the Political Bureau of CPC Central Committee.
Green Tea Base in North China
With rich resources of agricultural and subsidiary products, Rizhao is an important production base for peanut, aquatic product, silkworm cocoon, fruit, animal products and one of the four aquatic breeding centers. The planting area of green tea reaches 220,000 mu with an output of more than 10000 tons. The planting area and output respectively compose 60% and 75% of the whole Shandong Province. Rizhao is honored as the hometown of green tea in north China and is one of the three Coastal Green Tea Cities in the world together with Shizuoka (Japan) and Boseong (South Korea). The green tea, blueberry and coelomactra antiquate of Rizhao have won the national geographical indication trademarks.